The Rochester Music Guild introduced a new series of workshops in 2016 aimed at young musicians in Southeastern Minnesota.
These workshops focus on developing young musicians, through audience participation, while also benefiting area music educators and adult musicians in the community.
Rochester Music Guild thanks Christ United Methodist Church, Charter House, Zumbro Lutheran Church,
and Gloria Dei Lutheran Church for their support of the music education mission of Rochester Music Guild.
---
---
Past Events
Minnesota Percussion Trio presents Click, Clap, and Klunk
Saturday, January 21, 2017
10:00 a.m.
Christ United Methodist Church (400 5th Avenue SW)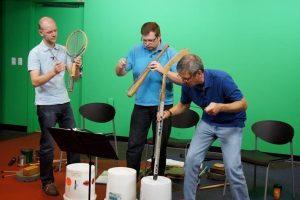 The Minnesota Percussion Trio (Bob Adney, Erik Barsness and Paul Hill) has been performing since 1987. In that time the trio has had over 1500 performances in schools, libraries, museums and community fine arts series. The Trio has been featured on KARE 11 and WCCO 4 in addition to feature articles with the Saint Paul Pioneer Press. At the core of the ensemble's work are three distinct programs its members have developed. These programs effectively present musical concepts in educational settings.
Music comes from the heart and then you find something to play it on! Using simple or found instruments such as 5-gallon buckets, claves, paper, tin cans and body percussion, the trio features the creativity of today's composers. These unlikely instruments and their sounds unlock the musical possibilities of the things around us. Click, Clap, and Klunk is the Minnesota Percussion Trio's most requested program and popular with audiences of all ages!
The Trio consistently earns the highest marks for innovative programming and successful audience rapport. The Trio was awarded the Zildjian Family Opportunity Grant, a prestigious industry award, and was able perform for over 2000 students in schools located in Saint Paul and Minneapolis. The Trio also collaborates with the Saint Paul Chamber Orchestra on their Start the Music series as well as their Xplorchestra music concerts and CONNECT programs. Additionally, the trio was artists in residence at the Minnesota State Academy of the Blind (January/February 2008) and in May 2010 the trio was awarded the Jim Dusso Award given by COMPASS acknowledging their excellence and longevity in the Twin Cities Arts scene. Most recently the Trio was named 2012-2013 Artists in Residence with Minnesota Public Radio.
Ameriikan Poijat (Boys of America) – Concert & Intro to Traditional Folk Dancing
Saturday, April 28, 2018
9:00 a.m.
Gloria Dei Lutheran Church (1212 12th Ave NW)
The Story of Ameriikan Poijat
The brass septet "Ameriikan Poijat" (Boys of America) has been appearing at ethnic festivals, regional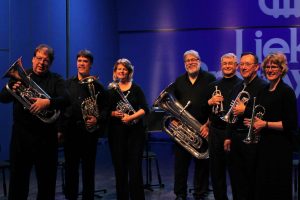 tours, and music conferences, presenting authentic social dance music and concert repertoire. During the 1980's, Paul Niemistö, the group's founder, made contact with many Finnish brass players and discovering this relatively unknown musical tradition.  In 1990 the group was formed, made up primarily of Midwestern musicians of Finnish descent. Ameriikan Poijat has evolved around the beautiful charm of the old music and dance arrangements, and has enjoyed popularity among Finnish American festival-goers. Although the septet had a limited existence among Finnish communities in the U.S., the music played by Ameriikan Poijat is quite familiar, being many of the same pieces heard played by accordion or salon orchestra. These brass players find the septet repertoire to be both meaningful ethnic art, as well as having a musicality attractive to all listeners. Members of Ameriikan Poijat are Finnish American musicians and teachers in the north central states of Minnesota and Michigan – a region were many Nordic settlers arrived.
The repertoire of Ameriikan Poijat
The repertoire of Ameriikan Poijat is derived directly from original hand manuscript sources to be found among Finnish bands and archives. Waltzes, schottisches, polkas, mazurkas, polonaises, and other social dances are well represented in the old books. Distinctly Finnish dances included are the jenkka, humppa, and the Finnish version of "tango." 
As a part of the amateur brass band movement in Finland, such prominent composers as Sibelius and Madetoja contributed concert repertoire, and numerous transcriptions were made of standard orchestral music. Many of the concert pieces for brass septet were commissioned to be performed at large national music festivals. During the past decade, when the Finnish septet has been enjoying a revival, modern Finnish composers and arrangers have contributed many new works to the septet.
Although Finnish brass septet music bears the shadows of Russian, Swedish, and German influences, its Finnish sound is unmistakable. Through contact with septet players in Finland, we realize that our playing style may differ a bit from native performers, but their enthusiasm for our renditions has been gratifying. We play with a "foreign accent." The more we interact with our Finnish musical colleagues, the more authentic we sound! The septet repertoire is colorful, well crafted, full of history, and a very satisfying medium for learning about an ethnic and musical heritage.