Rochester Music Guild News
October 2018
507 Magazine
'OK' music is definitely above par – Lunch & Learn
March 2015
Post-Bulletin
Young Rochester pianist selected for MPR contest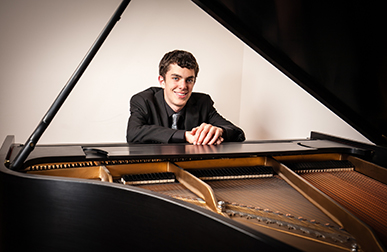 Jonathan Mattson, a pianist from Rochester, is one of 13 featured artists selected for the Minnesota Varsity music contest sponsored by Minnesota Public Radio.
Mattson and the other finalists were selected from 125 entries in the annual contest to select Minnesota's finest young musicians and composers, ages 14-18. They were selected based on recordings they submitted of themselves performing.
The featured artists were then matched with professional recording engineers to produce a high-quality recording of their performance. Those recordings are being broadcast through March on Classical MPR stations.
Mattson's recorded selection is Venezia e Napoli: I. Gondoliera, by Franz Lizst, recorded at the Wirth Center for the Performing Arts. It is available for listening online.
"I chose this piece because I love the wonderful atmosphere that Lizst creates," Mattson said on the MPR website. "It is with great delight that I immerse myself in the sound and attempt to allow the audience to be seduced by the charm and beauty of this music."
Besides playing the piano, Mattson is described as a voracious reader and enjoys downhill skiing. His goal is to have a career as a concert pianist.
As of Monday, the public can vote for one of the featured artists by going to Audience Vote online at classcalmpr.org. Four performers and one composer will be selected by a panel of judges to be featured in a showcase concert at 5 p.m. April 19 at the Fitzgerald Theater in St. Paul. Admission is free but tickets are required and can be reserved at 651-290-1200.
---
June 2014
Post-Bulletin
At 50 years old, Guild is good as gold
The Rochester Music Guild is turning 50 this year and is ready to throw a party.
Past winners of the guild's music scholarship competition will perform at "A Musical Homecoming" on June 7 at Christ United Methodist Church.
"This is our gift to the community," said Judy Kereakos about the free concert. Kereakos has been involved with the guild since the 1970s.
Among those performing are tenor Rhett Ketterling (1982, 1983 winner), saxophonist Tony Gibbs (1975), violinist Erik Rohde (2000, 2002, 2003), pianists Susan Henke (1994) and Kathryn Horntvedt (1981), cellist Amy Crockett (1989, 1990, 1991), soprano Amita Prakash (2001, 2002), trombonist Randy Stroetz (1967, 1970) and pianist Eric Street (1970). More recent winners also will take the stage.
Bringing back so many scholarship winners, many of whom have gone on to careers in music, "is really gratifying," Kereakos said.
"As of 2014, we've given out 400 scholarships," she said. "We have a good perspective now on what this competition does for young music students. They sense that someone, some organization in the community, supports them."
Although what originally was called the Rochester Symphony Guild was started to help support the Rochester Symphony Orchestra — which the guild still does — efforts quickly turned to a scholarship competition as well. The first scholarships were awarded in 1965, a year after the guild was formed. The awards that first year totaled $488, with the funds coming from a collection taken at the orchestra's Christmas concert and a donation from the Rochester branch of the American Association of University Women.
These days, it's difficult to keep a volunteer-run organization going for 50 years, let alone running a scholarship competition and organizing the monthly Lunch & Learn sessions, as the guild does.
"It's remarkable and worth recognizing in the community," Kereakos said. "It takes involvement from every generation to keep these things going."
The scholarships amount to $7,500 annually from the guild's scholarship endowment fund. As part of the 50th anniversary, the guild this year launched a campaign to add $50,000 to the fund. As of last week, the campaign was within $11,000 of that goal, indicating strong support for the program. There was skepticism at the start that the goal could be reached, Kereakos said. But, she said, "it's like it was meant to be."
Meanwhile, the guild's efforts to promote music and the arts in general have gone hand-in-hand with the efforts of the community at large.
"It seems to me that Rochester has made a new dedication to the arts," Kereakos said. "Key people here have said, 'This is what's going to make our community what we want it to be.'"
That might have been exactly what organizers of the guild were saying 50 years ago.
---
April 2014
Post-Bulletin
JMHS bassoonist plays on national stage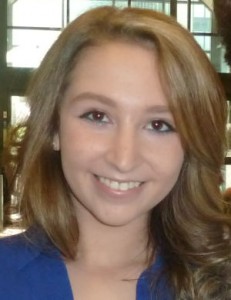 On March 7, John Marshall High School junior Samantha Woog performed with the National High School Honors Orchestra.
Samantha was one of three students from Minnesota, and the only student from the Rochester area, selected to take part. She was the orchestra's principal bassoonist. Samantha is a two-time winner of the Rochester Music Guild Scholarship Competition in the winds division.
Samantha, who has been playing the bassoon since sixth grade, practices about five hours a week, on top of band class every day in school.
She was selected for the Honors Orchestra after performing for the Minnesota All-State Orchestra, under the direction of Dr. Gary Lewis, in February.
"Dr. Lewis was the director of the Minnesota All-State Orchestra, and he handed out some pamphlets and information, then I sent in an audition tape and a few forms and was selected," Samantha said. "Dr. Lewis actually conducted both, so it was amazing to work with him again.
"I was so honored and excited to have the opportunity to play with such an awesome group of musicians from around the country," she said.
The Honors Orchestra performed Dmitri Shostakovich's Symphony No. 5 in D minor, op. 47, playing nonstop for almost an hour at the Louisville Center for Performing Arts in Louisville, Ky.
The Rochester Music Guild was instrumental — pun intended — in Samantha's opportunity, having provided scholarships through its student competitions.
"The scholarships that I have won through the Rochester Music Guild (as the 2012 first place winner in the junior winds division and the 2013 second place winner in the senior winds division) definitely helped with my trip to Louisville," she said.
---
April 2013
Post-Bulletin
Musician from Rochester Performs at Bombing Victim's Memorial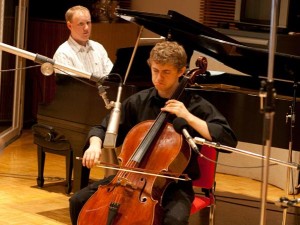 BOSTON— Joshua Rohde, a Rochester native and Boston University graduate student, poured his talents and emotions into a cello solo Monday night during a memorial service for the 23-year-old Chinese graduate student killed in the Boston Marathon blasts last week.
Boston University hosted the service for Lu Lingzi, who studied statistics at the school. Friends and faculty say she was an exceptional student with a bubbly personality.
Rohde is pursuing a Master of Sacred Music degree in Choral Conducting at BostonUniversity. He earned a Bachelor of Music in cello performance and a Bachelor of Science in civil engineering from the Universityof Minnesota.  Rohde is a three-time winner of the Rochester Music Guild Scholarship Competition in the Strings Division: 2004 – 1st Place, 2005 – 3rd Place, and 2006 – 2nd Place.
In an email to family and friends, Rohde, a 2006 Century High School grad, asked for their support as he performed a movement of unaccompanied solo Bach.
"All I ask is that my musical involvement in this memorial service may bring some sort of healing and comfort to the family and friends of Lu Lingzi and the many others who may be in attendance," he wrote. "I am not nervous about actually performing, as I know once I start playing my cello, nothing else could come more naturally. However, it is the many other major elements surrounding this service that I also ask for your prayers and support for. Without a doubt, this memorial service will be incredibly emotional."
Lu was one of three people killed in the bombings on April 15. A funeral for another victim, 29-year-old Krystle Campbell, also was held Monday.
Boston University launched a scholarship fund in Lu's name.
---
March 2013
Post-Bulletin
Rochester Teen Will Represent the U.S. in New Orchestra
She's represented Rochester on the state stage and Minnesota on the national stage, now violinist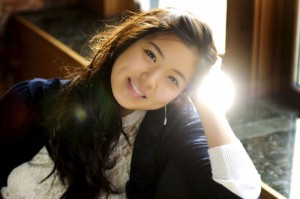 Jennifer Kim, 17, will represent her country as a member of the National Youth Orchestra of the United States of America.  Kim is a three-time winner of the Rochester Music Guild Scholarship Competition in the Strings Division: 2012 – 1st Place, 2011 – 2nd  Place, and 2010 – 1st Place Junior Strings.
The NYO-USA is a new undertaking by the Carnegie Hall's Weill Music Institute to showcase the country's best young musicians on an international tour.
About 1,000 musicians ages 16 to 19 underwent the rigorous audition process and only 120 were selected to perform with the orchestra. Among them is Kim, a senior at Century High School who began studying the violin at age 4.
"When I was little I wasn't really a big fan of playing and practicing," she said. "As I started playing more and listening to the music, it struck me as how amazing it is to make sound out of nothing, just wood and metal. I fell in love with it and started working harder so I could do justice to the music."
Her passion for perfection led her to ever more prestigious performance opportunities. Starting with the Southeast Minnesota Youth Orchestras.
"It was a great experience. It taught me what I know about playing in an orchestra," she said.
Since then she was invited to perform a solo concerto with the Rochester Symphony Orchestra and Choral last fall, spent three years with the Minnesota All-State Orchestra, including serving as concert master last year and participated in the national High School Honors Orchestra, which meets every two years in Atlanta, last March.
In June, Kim will go through a rigorous two-week residency in New York with the NYO-USA, working with internationally-renowned conductor Valery Gergiev and acclaimed violinist Joshua Bell in preparation for a performance at Washington DC's Kennedy Center followed by dates in Moscow, St. Petersburg and London.
"I'm kind of worried," she said. "Obviously when I get there I have to know my music really well."
The pieces that Kim is looking to perfect include Tchaikovsky's Violin Concerto, Shostakovich's Symphony No. 10 in E Minor, and a new work by young American composer Sean Shepherd, co-commissioned by Carnegie Hall for NYO-USA.
---
June 2012
Rochester Music Guild Scholarship Competition Winner
Isaac Johnson Receives National Honor – Young musician will Attend Interlochen Arts Camp as an Emerson Scholar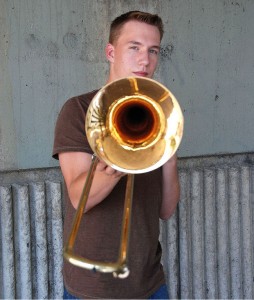 Isaac Johnson of Pine Island has been named one of only 43 Emerson Scholars and will receive a full scholarship to attend Interlochen Arts Camp, the world's premier summer arts program for aspiring young musicians. Emerson scholars are selected from among the top applicants to the competitive summer arts program. Isaac won 1st Place in the Senior Wind Division of the 2012 Rochester Music Guild Scholarship Competition. In 2011 Isaac won 1st Place in the Junior Wind Division.
Johnson, 16, will attend Interlochen Arts Camp this summer to study the trombone and perform with renowned youth ensembles. He is the son of Dave and Suzy Johnson and is home-schooled in Pine Island, Minn. He takes private trombone lessons with Randy Stroetz and studies under Manny Laureano. Johnson has won several competitions including the 2011 South East Minnesota Youth Orchestra Concerto Competition. Aside from being a Boy Scout, Johnson enjoys singing in the choir and playing in the 37th Street Jazz Band. He hopes to become a professional musician and play for an orchestra in the future. Johnson is excited to be surrounded by the artistic atmosphere at Interlochen this summer. "I am looking forward to experiencing a high level of performance in the orchestra program at Interlochen."
Sponsored by Emerson of St. Louis, the Emerson Scholar Program provides the opportunity for outstanding high school musicians to attend Interlochen Arts Camp, located in northwest Michigan. The Emerson Scholars Award provides full tuition, private lessons, and room and board for the six-week summer program. This is the 23rd year Emerson has sponsored the scholarship program.
"Every year, Interlochen Arts Camp brings together some of the most talented and motivated students from around the world," said Interlochen President Jeffrey S. Kimpton. "Thanks to the generosity of Emerson, we are able to extend even more opportunities to talented young artists by providing them with an experience unlike any other."
To be eligible for the Emerson Scholarship, students must be in grades nine through twelve and demonstrate exceptional skill and proficiency on harp, string, wind or percussion instruments. Upon arrival to the Arts Camp, Emerson Scholars contribute their talent and energy to one of Interlochen's highly-regarded youth ensembles, including the World Youth Symphony Orchestra. This year, the orchestra will perform with world-renowned musicians including pianist Awadagin Pratt and cellist Anthony Ross. The group is conducted by the dynamic Jung Ho Pak and will also welcome guest conductors Osmo Vanska, music director of the Minnesota Orchestra, and JoAnn Falletta, music director of the Buffalo Philharmonic and the Virginia Symphony Orchestra.
"To be recognized as an Emerson Scholar puts these students in a most elite and prestigious group of talented people," said Kimpton. "It is quite an honor, not only for the students themselves, but also for the people and places that helped them to become the promising young musicians they are."
---
May 2012
Post-Bulletin
Rochester Music Guild Scholarship winner is noted for philanthropic effort
Rochester native Annie Ryu has been named one of the top 10 college women in the country by Glamour magazine for being a "global go-getter." Annie's parents are Dr. Jay Ryu and Dr. Patricia Pellikka – both are long-time members of the Rochester Music Guild. For many years Annie participated in the Music Guild Scholarship Competition as a violinist. When Annie was a senior in High School she won 1st place in the string division of the Rochester Music Guild Scholarship Competition and also won the SEMYO Concerto Competition that year. Annie was also named the outstanding music student at Mayo High School and was awarded the Sid and Carol Suddendorf Scholarship from the Rochester Music Guild.
As a senior at Harvard University studying social anthropology with a secondary field in global health and health policy, Annie is working to route jackfruit products to the U.S. from impoverished farms in India. Jackfruit is a large, edible fruit that grows in tropical climates. The company Ryu founded, Global Fruits Village, connects jackfruit producers and processors to a market, giving them an income they need to improve their living conditions.
"I see it addressing the root cause of an enormous amount of health problems, which is poverty," Ryu said.
Growing up in Rochester, Ryu said she was a bit naive about access to high-quality, affordable health care. A class during her first semester at Harvard "opened my eyes to the reality," Ryu said. Ryu and her brother visited India last summer to implement Remindavax — a text-message service they created to encourage about 3,400 expectant mothers in India to receive prenatal care.
On her first day in Bangalore, Ryu spotted the "huge, spiky, green things" and thought it might be an animal. It turned out to be jackfruit — the "most delicious thing I'd ever eaten," Ryu said. She wondered why it wasn't available in America and soon learned that there is a disconnect between impoverished producers, processors and the market. Winning the $3,000 Glamour award and being recognized for her accomplishments was encouragement for taking a leap she felt passionate about, Ryu said.
"This was a cool reward for taking that risk and following the biggest dream that I had."
The Mayo High School graduate is enjoying more success. Last month, she won a Harvard competition for her social enterprise and will put part of the proceeds toward a better processing infrastructure for the farmers in India. On Saturday, Ryu said she will travel to India to secure more jackfruit farmers who will sell to the U.S.
"There's so much time and effort you have to invest in it before it becomes something real."
Annie plays violin in the Harvard Radcliffe Orchestra. She also takes private violin lessons and plays in various string quartets–for weddings, receptions, etc… several times a year. Her orchestra toured in Cuba last year! Here is a picture of Annie at a recent concert. The orchestra is warming up. Annie is seated on the end of the second row, directly behind the concertmaster who has not yet taken his seat. (Annie still wears a ponytail and sits on the edge of her chair.)
---
April/May 2010
Rochester Music Guild Scholarship winners are featured in KSMQ's "Off 90" episodes.
KSMQ's "Off 90" Episode 105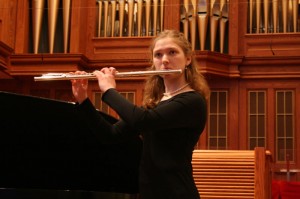 Irissa Hubka – A young flute player performs and shares her love of the instrument.
Irissa Hubka – is a three-time winner of the Music Guild Scholarships: in 2007 and 2009 Irissa won 3rd place in the Winds Competition, and in 2010 she won 1st place in the Winds Competition.
---
KSMQ's "Off 90" Episode 104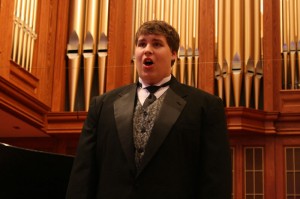 Evan Johnson – Hear a performance by this talented young vocalist.
Evan Johnson is a three-time winner of the Music Guild Scholarships: in 2009 Evan won 1st place in the Senior Piano division and 3rd place in the Senior Voice division. In 2010 he won 1st Place in the Senior Voice division.
---
KSMQ's "Off 90" Episode 103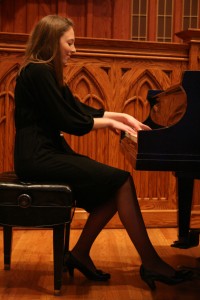 Lessons Learned from 88 Keys – In the Hagan family, playing the piano is a tradition that spans generations.
Christina Hagan won 1st Place in the Senior Piano Competition in 2010.
---
November 2009
Post-Bulletin
Music-lovers are treated to evening of Italian dining
Supporters of Rochester Music Guild enjoyed an evening in Italy on Nov. 6, 2009 without having to leave the United States. They attended the Guild's Night in Italy fundraiser, which featured Italian food and music.
"So far, it's great," said Bill Karnes, of Rochester, who attended the event with his wife, Jeannine. They chose to attend because, "We like the Music Guild and Italian food," said Jeannine Karnes.
The four-course, Italian dinner was prepared and served by a small army of volunteers. Members of Bella Voce Young Women's Choir, a group that has received support from the Guild in the past, were among the servers.
Hannah Pederson, 16, said, "I just wanted to help out. It's going really well. I haven't dropped anything yet."
During the meal, diners were serenaded by a string quartet of youth musicians.
After dinner, soprano Allison Buivid and tenor Brian Kuhl — both Rochester Aria Group singers — performed Italian opera selections by composers Giacomo Puccini and Gaetano Donizetti. Both Buivid and Kuhl are Minnesota musicians who have gone on to careers as professional opera singers.
Rochester music-lover Sandee Johnson attended the event to support friends who are musicians and because, "I love music. It is one of the arts that we can all be involved with whether we're musicians or just appreciate the music," she said.
Rochester Music Guild was founded in 1963 and works to promote music appreciation, education and performance in Rochester. It is a major supporter of Rochester Symphony Orchestra & Chorale, as well as other performing groups in the area. The guild also sponsors an annual scholarship competition for local music students in grades seven through 12.
"The Guild (provides) a lot of network building for young musicians and encourages them with scholarships," says supporter Sheila Kiscaden. Kiscaden also noted the Guild's support of local music groups such as Rochester Symphony Orchestra. She says support for the arts is important for the community.
"Arts groups like the orchestra are what make Rochester such a great place to live," she said.
Proceeds from the event support the Music Guild's programs, including the February 2010 Scholarship Competition.