Each month, musicians perform a free, noontime program in Rochester. See specific event for details.
An optional lunch is available 30 minutes prior to the program.
11:30 am – Lunch
12:00-12:45 pm – FREE program
$10 catered lunch – bag lunches welcome
To purchase lunch, e-mail lunch@rochestermusicguild.org or call Carol Benson at 507-206-3283
---
Guitarist Benjamin Gateno
Friday, February 26, 2016
Christ United Methodist Church – 400 5th Avenue SW, Rochester
The aim of any classical music performance is to make the music jump off the page with a strong sense of emotion, vitality, and spontaneity. To do this, a musician must make countless interpretive decisions in the practice room. At this Lunch and Learn classical guitarist Ben Gateno will give listeners a sneak peek into this fascinating process by presenting several pieces from the vast, centuries-wide guitar repertoire, explaining what choices he has made, how he arrived at those conclusions, and demonstrating alternate possibilities. A native of southern Minnesota, guitarist Ben Gateno graduated with a doctoral degree in performance from the Eastman School of Music in 2005. From 2009 to 2014 he performed extensively as a member of the Minneapolis Guitar Quartet. In addition to performing in a variety of settings, Ben maintains a busy teaching schedule, both privately and at Rochester Community and Technical College.
---

Hanns Eilser's Hollywood Songbook
Friday, March 18th
Christ United Methodist Church – 400 5th Avenue SW, Rochester
Baritone Alan Dunbar and pianist Deanne Mohr will perform and speak about the songs of German composer Hanns Eilser's Hollywood Songbook. Hanns Eisler (1898-1962) fled Nazi Germany in 1933 and settled in Los Angeles during the 1940s. This collection of forty-seven songs written between 1940-1947, grapples with the complexities and hardships of life as an exile and refugee, with songs that speak to longing, loneliness, loss, death, war, and hope for return to one's homeland. Alan Dunbar, who holds a DM degree in vocal performance from Indiana University, is a versatile performer with extensive experience in opera, on the concert stage, and as former member of internationally acclaimed male chamber vocal ensemble Cantus. Deane Mohr holds a doctorate in piano performance from the University of Montréal and performs extensively in Canada and the Midwestern United States.
---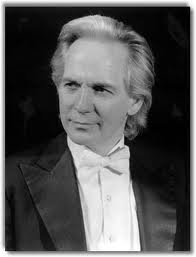 Slavic Soul
Friday, April 15, 2016
Charter House (Northview Room) – 211 2nd ST NW, Rochester
Jere Lantz returns for his second Rochester Symphony preview to discuss the orchestra's all-Russian and Polish program. Lantz will provide an in-depth analysis of Shostakovich's Festive Overture, Tchaikovsky's Piano Concerto No. 1, and Witold Lutoskawski's Concerto for Orchestra. For more information on Jere Lantz and the Rochester Symphony visit Rochester Symphony Orchestra & Chorale.
---

Chopin and Gershwin: Featuring Pianist Mark Ochu
Friday, May 6, 2016
Charter House (Edwards Hall) – 211 2nd ST NW, Rochester
International concert pianist Mark Ochu will present a Concert/Lecture on the music of Chopin and Gershwin. Listeners will discover parallels between the two composers lives and their music while enjoying familiar repertoire. Mark combines informal yet informative commentary based in history, mythology, and philosophy which has brought an enlightening musical experience to thousands of concert goers. Mark's decision to become a non-traditional performing artist was influenced by Leonard Bernstein's "Young People's Concerts" and the work of Joseph Campbell. Mark has performed in over 25 Countries on 4 Continents and throughout the US.