Each month, musicians perform a free, noontime
program in Rochester. See specific event for details.
An optional lunch is available 30 minutes prior to the program.
11:30 am – Lunch
12:00-12:45 pm – FREE program
$10 catered lunch – bag lunches welcome
To purchase lunch contact Corey Henke at lunch@rochestermusicguild.org or 507-696-2023
---
Beethoven Out of the Shadows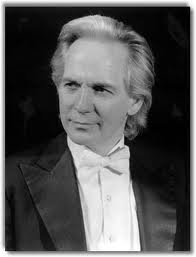 Monday, February 2, 2015
Charter House – Northview Room (211 2nd St NW, Rochester)
Featuring Jere Lantz
Maestro Jere Lantz returns for his second Rochester Symphony preview to lead a special celebration of everything Beethoven. Lantz will dive deep into the life and repertoire of Beethoven, examining three monumental works: the Fidelio Overture, Symphony No. 4, and the oratorio Christ on the Mount of Olives. Audience members will enjoy an in depth analysis of each work, hear audio samples, and learn how Beethoven's life impacted his music. For more information about Jere Lantz and the Rochester Symphony visit Rochester Symphony Orchestra & Chorale.
---
Thursday, February 26, 2015
Christ United Methodist Church (400 5th Ave SW, Rochester)
Featuring Murasaki Duo (Eric Kutz, cello and Miko Kominami, piano)
The Murasaki Duo will perform a concert and spoken presentation entitled "A French Affair." It will feature favorite works of the cello and piano literature from 1914-1982. From Ravel and Poulenc to lesser-known luminaries Boulanger and Dutilleux, listen to the arc of French music as heard through the cello and piano. Since its founding in 1996 at the Juilliard School, the Murasaki Duo has been dedicated to performing the cello and piano literature as chamber music. The Duo has performed throughout the United States and Canada, including concerts in New York City, Los Angeles, Chicago, and Toronto. For more information visit Murasaki Duo.
---
J.S. Bach's Masterpiece: The Goldberg Variations
Friday, March 27, 2015
Christ United Methodist Church (400 5th Ave SW, Rochester)
Featuring Pianist Deanne Mohr
Join Winona State University professor Dr. Deanne Mohr in a short lecture and performance of J.S. Bach's keyboard masterpiece, the Goldberg Variations. Though originally composed for harpsichord, professor Mohr will be interpreting the variations on piano, and will discuss some of the challenges of re-envisioning this work on a modern instrument as well as its historical background and form. Born in Regina, Saskatchewan, Deanne Mohr completed her doctorate in piano performance at Université de Montrèal under the tutelage of Marc Durand. A laureate in several national competitions, she has been recorded in recital for CBC Saskatchewan and Radio-Canada, and was featured in the Montrèal Début Series and the Banff Centre of the Arts' Summer Festival. In addition to her duties at WSU, Deanne is active as a soloist and collaborative pianist in the Midwestern United States and Canada. For more information visit Dr. Deanne Mohr.