Each month, musicians perform a free, noontime program in Rochester. See specific event for details.
An optional lunch is available 30 minutes prior to the program.
11:30 am – Lunch
12:00-12:45 pm – FREE program
$10 catered lunch – bag lunches welcome
To purchase lunch contact Corey Henke at lunch@rochestermusicguild.org or 507-696-2023
---
An Evening with VocalEssence ¡Cantaré! Composers
Thursday, April 16, 2015
7:00-8:00 p.m.
Zumbro Lutheran Church (624 Third Ave SW, Rochester)
Featuring Rodrigo Cadet and Novelli Jurado
Join VocalEssence ¡Cantaré! Composers, Rodrigo Cadet and Novelli Jurado, as they discuss their lives as composers in Mexico, share highlights from their works, and perform. ¡Cantaré! in Rochester is a program designed to bring the talents of composers from Mexico directly into Minnesota classrooms. Cadet and Jurado are working with elementary, high school, and community choral singers in Rochester, exploring Mexican cultural and choral music traditions. The program will culminate in the performance of music compositions by the above composers on April 27th at Bethel Lutheran Church. To learn more about VocalEssence ¡Cantaré! in Rochester and for the biographies of the composers please visit ¡CANTARÉ! IN ROCHESTER.

This activity is made possible by the voters of Minnesota through a grant from the Minnesota State Arts Board, thanks to a legislative appropriation from the arts and cultural heritage fund.
---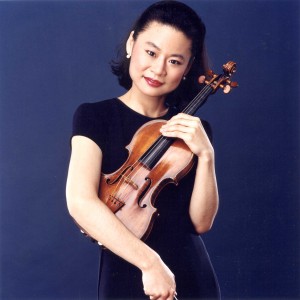 World-Renowned Violinist Midori
Friday, May 8th, 2015
Midori Program: 11:30 am – 12:15 pm
Lunch: 12:15 pm (featuring music from Scholarship winners)
Christ United Methodist Church (400 5th Ave SW, Rochester)
Featuring Midori Goto
The Rochester Music Guild is proud to welcome internationally acclaimed violinist Midori to our Lunch & Learn program. Midori will present on a topic of her choice and perform on the violin. Japanese-born violinist Midori Goto, most often know simply as Midori, made her professional debut with the New York Philharmonic at the age of 11 and has since gone on to international acclaim as a soloist and recording artist. She has used her fame to found a series of successful not-for-profit organizations aimed at bringing music education to underprivileged children. In recognition of such activities, in 2007 she was named a UN Messenger of Peace. Midori visits Rochester for a weeklong residency with SEMYO and the Rochester Symphony Orchestra culminating in solo performances with each ensemble. For more information on Midori's schedule of activities please visit SEMYO.