Each month, musicians perform a free, noontime program in Rochester. See specific event for details.
An optional lunch is available 30 minutes prior to the program.
11:30 am – Lunch
12:00-1:00 pm – FREE program
$10 catered lunch – bag lunches welcome
Lunches must be reserved by the Monday before the event. 
To reserve a lunch, e-mail education@rochestermusicguild.org or call 507-218-1084 and leave a message.
Rochester Music Guild thanks, Christ United Methodist Church, Charter House, Zumbro Lutheran Church,
and Gloria Dei Lutheran Church for their support of the music education mission of Rochester Music Guild.
---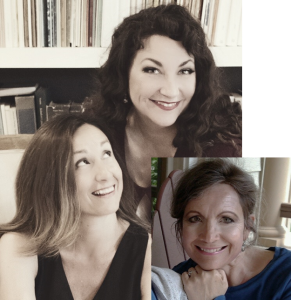 Soprano Duets & Solos
Friday, Septerment 13, 2019
Christ United Methodist Church
Carla Thelen Hanson, Soprano
Ann Simerlink, Soprano
Ainhoa Urkijo, Accompanist
Carla Thelen Hanson is garnering attention for exciting and vocally thrilling performances of opera's leading heroines throughout the country of her recent debut of Cio-Cio San in Puccini's Madama Butterfly the InForum declared: "the singer's star is shining bright…". Her debut in the role of Desdemona in Verdi's Otello at the Utah Festival Opera the Salt Lake City Tribune exclaimed "Hanson's vocal range, exquisite control and emotional depth culminated in "Willow Song"; the sublime "Ave Maria" that followed was a masterpiece of tenderness and vulnerability. She also showed indomitable strength, defying Otello's brutal efforts to make her confess a nonexistent sin in the final duet." Of her New York City Opera debut as Puccini's Tosca, The New York Times noted, "Ms. Hanson made a strong debut as Tosca, by turns fiery and vulnerable, her voice agreeably dark in its middle range and sufficiently full on top" and the New Yorker exclaims "her dark-grained, strongly felt "Vissi d'arte" sailed right up to the uppermost balcony." Of her Tosca at Utah Festival Opera the Desert News proclaimed her "outstanding" and her "Vissi d'arte" "heart piercing". Of her recent Fidelio the weekly InForum noted "Hers is a voice of great power and beauty and she essayed the difficult music with aplomb. Her first act aria was so beautifully done that it received a sustained three-minute ovation at the Friday performance." She received equal praise for portrayals of Maddalena de Coigny in Andrea Chenier for Mobile Opera, as well as the title roles of Ariadne auf Naxos and Norma, both with Union Ave Opera Theatre. For Seattle Opera's 2009 Ring Cycles, she covered the 3 soprano Valkyries in Die Walkuere.
Ann Simerlink's "warmly Italianate voice had lots of color and character, and her Nedda was the standout performance of the evening." Asheville Citizen Times.
Unusual versatility marks the voice of the Rochester, MN-based artist, who made her successful Carnegie Hall debut as the soprano soloist for Andrew Carter's regional premiere of Te Deum. She has performed nationally in numerous musical theater, chamber music, pops and classical venues. Solo performances include Brevard Music Festival, Ohio Light Opera, National Opera Association, Toledo Repertoire Theater, Matinee Musicale, Black Swamp Players, and featured soprano soloist for the Cincinnati Premiere of William Grant Still's song cycle, From the Hearts of Women. Ms. Simerlink has been a regular soloist for Festa Italiana Opera Night on the Riverfront, Newport, KY.
Pops and jazz engagements include performances on the Arawanna Queen Cruise Lines, Omni Netherlands Hotel, Cincinnati Woman's Club, John Patterson & Friends Café, and with the Phil DeGreg Jazz Trio at Northern Kentucky University. Ms. Simerlink has been recognized as being in the "Top Ten Percent Vocal Pops" category at the Nashville City Song Festival, an international professional music competition.
Ainhoa Urkijo is a collaborative pianist dedicated to the fields of piano teaching, chamber music, art song and opera. She holds a Doctorate in Collaborative Piano from the University of Minnesota, a Masters of Music Degree in Accompanying and Coaching from Westminster Choir College in Princeton and a Piano Performance Degree from the Arriaga Superior Conservatory of Music in his native city of Bilbao, Spain. Mrs. Urkijo has had the opportunity of studying in Europe and in the US with many great pianists and leaders in the Opera and Art Song field including Dalton Baldwin, Wolfram Rieger, Paul von Schillhawsky, Charles Spencer, Harmut Holl, Ileana Cotrubas, Mitsuko Shirai, Alejandro Zabala, Timothy Lovelace and Noriko Kawai.
Mrs. Urkijo is passionate about a broad range of musical styles and performs regularly with vocalists and instrumentalists alike. She has performed with renowned American singers such as Adriana Zabala, John Marcus Bindel, Jonathan Burton, Carla Hanson, Philip Zawisza, Christopher Robertson, Tamara Matthews, and with up and coming Spanish tenor, Jose Lopez Ferrero and mezzo Magdalena LLamas. Mrs. Urkijo has performed at festivals throughout Europe and the United States with great success. Current projects include recitals with Carla Hanson, the Spanish soprano Amaia Arberas and a series of Chamber recitals with members of the Rochester Symphony Orchestra. She made her debut at the Weill Hall at Carnegie Hall in New York City in 2012. Mrs. Urkijo has been an enthusiastic advocate of the Spanish vocal music in the US, where she has performed this repertoire extensively, in particular the songs of Joaquin Turina, composer that was subject or her Doctoral Thesis.
---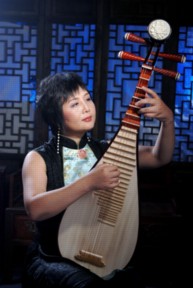 Gao Hong, Chinese pipa player and composer
Friday, October 11, 2019
Christ United Methodist Church
Gao Hong, Chinese pipa player and composer, began her career as a professional musician at age 12. She graduated from the Central Conservatory of Music in Beijing where she studied with pipa master Lin Shicheng. She has received numerous awards and honors, including First Prize in the Hebei Professional Young Music Performers Competition, a Beijing Art Cup, an Asian Pacific Award, and grants and fellowships from the Minnesota State Arts Board, Meet the Composer and the Southeastern Minnesota Arts Council. In 2005 Gao Hong became the first traditional musician to be awarded the prestigious Bush Artist Fellowship, and in 2012 she became the only musician in any genre to win four McKnight Artist Fellowships for Performing Musicians. In 2018 she became the first Chinese musician to win a Sally Award from the Ordway Center for the Performing Arts.
She has performed throughout Europe, Australia, Argentina, Japan, Hong Kong, China, and the United States, and has participated in the Lincoln Center Festival, San Francisco Jazz Festival and international festivals in Paris, Caen, Milan, and Perth. She has performed countless U.S. and world premieres of pipa concerti with organizations such as the Saint Paul Chamber Orchestra, Heidelberg Philharmonic, Buenos Aires Philharmonic, China National Traditional Orchestra, China Guangdong National Orchestra, Louisville Orchestra, Hawaii Symphony, Pasadena Symphony, and the Women's Philharmonic (San Francisco), among others. As a chamber player, she was featured as both pipa player and composer at ChamberFest Cleveland, Yellow Barn Music Festival, Carolina Chamber Music Festival, Harbin Summer Music Festival, Pittsburgh Early Music Festival and others. In 2017 she became the first Chinese musician to play the National Anthem at a Minnesota Timberwolves NBA game at Target Center in Minneapolis.
As a composer, Gao has received commissions from the American Composers Forum, Walker Art Center, the Jerome Foundation, Zeitgeist, Ragamala Dance Theater, Minneapolis Guitar Quartet, Theater Mu, IFTPA, and Twin Cities Public Television. Her composition for solo pipa, "Flying Dragon", won the 2012 Global Music Award – Award of Excellence Solo Instrumental (Gold Medal).
In 2016, Gao Hong completed the first pipa method book ever written in English and had it published by Hal Leonard, the world's largest print music publishing company. She teaches Chinese musical instruments and directs the Carleton Chinese Music Ensemble and the Global Music Chamber Ensemble at Carleton College in Minnesota. She is also Guest Professor at the Central Conservatory of Music in Beijing, China Conservatory of Music, Tianjin Conservatory of Music, and Hebei Vocational College for the Arts.
In addition to Gao Hong's own solo performances of her compositions worldwide, her music has been performed internationally by many world-class musicians. In 2000, Song of the Pipa, a play based on Gao Hong's life and the life of Chinese poet, Bai Juyi, received 20 performances by Theater Mu and featured live musical accompaniment and new compositions by Gao Hong. In 2007 her first choral composition – "The Coming of Spring" – was one of five pieces selected out of 128 applicants nationwide for a reading session by VocalEssence. The piece was premiered by VocalEssence at the Fitzgerald Theater in St. Paul in 2008. "Awakening" – her newly commissioned piece from the Jerome Foundation – was premiered by Gao Hong and Speaking in Tongues at Muziekgebouw aan het IJ in Amsterdam in March 2007. In the same year, she was also selected to participate in a composer's workshop hosted by the new music ensemble, Zeitgeist, and premiered her new composition "Courage" – for pipa and percussion – with Present Music in Milwaukee. In 2008, to celebrate Gao Hong's 35th anniversary of playing her pipa and 10 years as a composer, Hong headlined two major concerts featuring her compositions at Weill Recital Hall at Carnegie Hall and Ted Mann Hall in Minneapolis. She composed a special pipa and sitar duet with guest artists Shubhendra Rao on sitar- a top disciple of Ravi Shankar – and rising young tabla star Biplab Bhattacharya. Three of her works received their world premieres and were performed by taiko drum master Kenny Endo, David Hagedorn on percussion, cellist Michelle Kinney, Gao Hong on pipa, and Indian vocalist and veena player Nirmala Rajasekar. in 2016 Gao Hong composed her first, mixed-media comedic performance piece, "Gao Hong on the Highway" and in 2017 she composed her second mixed-media comedic performance piece "Chinglish" and Guangxi Caprice for Pipa and String Quartet.
Since her arrival in the U.S. in 1994, Gao Hong has been featured in over 100 newspaper and magazine articles and four television documentaries. Her broadcast features include ABC's "On the Road Again" with Jason Davis, the NPR radio show "Performance Today" (the most- listened-to classical music radio show in America, hosted by Fred Child), MPR "The Joy of Pipa" hosted by Karl Gehrke and The CBS Radio KMOX 1120 Charlie Brennan Show in St Louis. She has presented hundreds of educational workshops for elementary through college-age students and has been on the faculty of Metropolitan State University and MacPhail Center for the Arts.
China's foremost music publication, "People's Music," wrote of Gao Hong that "like the famous Luoyang peony, she has gradually emerged as the best of all beautiful flowers…her performance has extremely strong artistic appeal and belongs under the category of 'fine wine'…the more you listen, the more beautiful it gets…"
---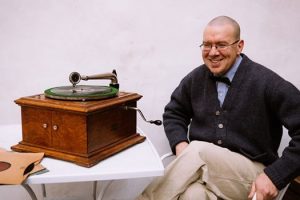 Victrola Jockey Todd Juzwiak
Friday, November 8, 2019
Christ United Methodist Church
Enjoy the musical collection of area Victrola Jockey Todd Juzwiak as you've never heard before on vintage phonograph. With a wide variety of musical selections, come kick back and enjoy a few hours of the warm textured sound that time forgot.
"My record collection includes thousands of 78's from 1900 to the 1950's. This time span covers early american songbook, to dance orchestra, to big band, to swing, to jazz, to blues, to early country, to hillbilly, to folk. The options are wide and various. That said, I have a go-to playlist that is a good mix of genres and periods. Some artists included are Benny Goodman, Ella Fitzgerald, Count Basie, Billie Holiday, Louis Armstrong, Jimmie Rodgers, Gene Autry, Bob Wills, Paul Whiteman, Rudy Vallee, Ruth Etting, Hank Williams, Fats Waller, Carter Family, Cab Calloway…"
---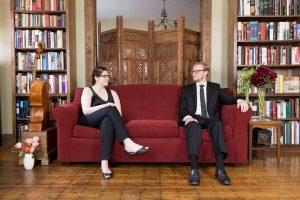 Artu Duo
Friday, April 3, 2020
Christ United Methodist Church
Now in their ninth season as Artu Duo, pianist Garret Ross and cellist Ruth Marshall are based in Saint Paul MN, and enjoy concertizing and teaching together across the United States. Highlights of the 2018-2019 season include debut performances on the Fortuna Concert Series in Fortuna CA, and the First Tuesdays Series in Washington DC, as well as a return to the Apollo Music Festival in Houston MN, where they have been ensemble-in-residence since 2013.
After forming in 2011, Artu Duo completed a winter residency course on the Beethoven Sonatas and Variations for Cello and Piano at the Banff Centre in Canada. In 2012, Artu Duo traveled to the Aldeburgh Festival in England, where they completed a residency course on the chamber music of Brahms and Schumann. These immersive experiences sparked a deep love of the music of Beethoven, Brahms and Schumann in Artu Duo, which has been the foundational repertoire for them ever since- not only as a duo, but as a piano trio, quartet, and quintet, when joined by colleagues. From that foundation, Artu Duo also enjoys performing contemporary and rarely-heard works, especially works by Elliott Carter and Thomas Adès.
Artu Duo has toured extensively in the United States, playing concerts in Indiana, Illinois, Wisconsin, Oregon, Montana, Washington, New York, California, Minnesota, and Louisiana. In both 2013 and 2016, Artu Duo played on the Dame Myra Hess Memorial Concert Series in Chicago, which was broadcast live on WFMT. They performed on the Schubert Club Courtroom Concert Series in Saint Paul in 2014, 2016, and 2018. And in 2016, they gave their debut at Carnegie Hall, playing a complete program in the Weill Recital Hall.
Mr. Ross and Ms. Marshall are both committed teachers, and have enjoyed giving masterclasses and performing outreach concerts while on tour. Artu Duo community and educational performances have been presented by the Illinois Symphony Orchestra, the Bozeman Symphony Orchestra, the Mineral Point Chamber Music Festival, Thursday Musical in Minneapolis, and through the Britt Festival Education and Engagement resident artists program. These performances are tailored to the developmental stage of the students, and engage listeners on topics such as form, texture, meaning and expression, and rhythm, alongside relevant musical examples. Additionally, Artu Duo has given collegiate-level masterclasses at the Apollo Music Festival, the University of Louisiana, the State University of New York at New Paltz, Indiana State University, and Humboldt State University.
---
Past Guests
Classical Trio with Karla Sukov – oboe, Ronald Beitel – horn, and Jan Matson – piano
Dave Hagedorn & Kevin Clements
Tim Hildebrandt – Birth of A Song: Inspiration, Perspiration, Realization
Rachel Jansen – Hardanger Fiddle
Jenny Kruse – Music Therapy
Laura MacKenzie – Wind-Powered Music from Celtic Traditions
Musical Geography: Mapping Place and Movement Throughout Music History
Rochester Symphony Preview with Jere Lantz