Each month, musicians perform a free, noontime program in Rochester. See specific event for details.
An optional lunch is available 30 minutes prior to the program.
11:30 am – Lunch
12:00-1:00 pm – FREE program
$10 catered lunch – bag lunches welcome
Lunches must be reserved by the Monday before the event. 
To reserve a lunch, e-mail education@rochestermusicguild.org or call 507-218-1084 and leave a message.
Rochester Music Guild thanks, Christ United Methodist Church, Charter House, Zumbro Lutheran Church,
and Gloria Dei Lutheran Church for their support of the music education mission of Rochester Music Guild.
---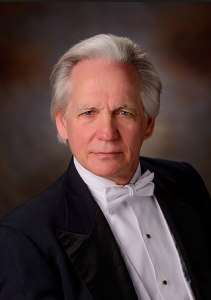 Rochester Symphony Preview with Jere Lantz: The Titans
Friday, April 12, 2019
Northview Room, Charter House, Rochester MN
Jere Lantz, President/CEO and Artistic Director of the Rochester Symphony, returns for his popular symphony preview. Gustav Mahler's youthful first symphony set a new standard for symphonic writing for the 20th Century. His works were championed by the legendary musician, conductor and composer Leonard Bernstein. Here we showcase them together–Bernstein's dazzling works for stage and screen and Mahler's epic Titan Symphony. Visit Rochester Symphony for upcoming concert information.
Catering by: Charter House
---
Twin Cities Trumpet Ensemble
Special Saturday Lunch & Learn
Saturday, May 18, 2019
Zumbro Lutheran Church, Rochester MN
There is only one 24-trumpet musical ensemble in the United States, and it has its home in the Twin Cities! The Twin Cities Trumpet Ensemble (TCTE) was founded in 2014 by a trio of trumpeters who decided to invite others to join them for trumpet playing and camaraderie. It took only a few months for the group to grow to 24 of the best trumpet players in the area. Under the direction of James Olcott and boasting a vast repertoire stretching from the Renaissance to the present, a TCTE concert is a musical feast not to be missed!
Catering by: Pasquale's Neighborhood Pizzeria
---
Past Guests
Classical Trio with Karla Sukov – oboe, Ronald Beitel – horn, and Jan Matson – piano
Dave Hagedorn & Kevin Clements
Tim Hildebrandt – Birth of A Song: Inspiration, Perspiration, Realization
Rachel Jansen – Hardanger Fiddle
Jenny Kruse – Music Therapy
Laura MacKenzie – Wind-Powered Music from Celtic Traditions
Musical Geography: Mapping Place and Movement Throughout Music History
Rochester Symphony Preview with Jere Lantz