Each month, musicians perform a free, noontime program in Rochester. See specific event for details.
An optional lunch is available 30 minutes prior to the program. (Caterer subject to change without notice.)
11:30 am – Lunch
12:00-1:00 pm – FREE program
$10 catered lunch – bag lunches welcome
Lunches must be reserved by the Monday before the event. 
To reserve a lunch, e-mail education@rochestermusicguild.org or call 507-218-1084 and leave a message.
Rochester Music Guild thanks, Christ United Methodist Church, Charter House, Zumbro Lutheran Church,
and Gloria Dei Lutheran Church for their support of the music education mission of Rochester Music Guild.
---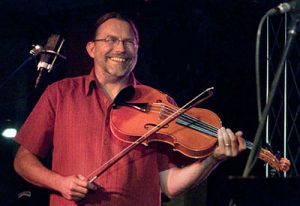 Randy Sabien, Jazz Violin
Friday, February 21, 2020
Christ United Methodist Church
Catering: Pasquale's Pizza
Randy Sabien is a bluesy, rockin', swingin', funky, jazz violinist. With an intensely rhythmic, vibrant and inventive style, he has captivated audiences worldwide, playing with scores of bands and musicians of all stripes. "Listen closely to Sabien's great cascades of notes, and you will hear the grand arpeggios, broken octaves, double-stops, trills, and tremolos that have marked classical violin playing since the solo work of J.S. Bach. But that's just the starting point for Sabien's art which bristles with the spirit of bona fide jazz improvisation. Rather than simply embellishing a tune, he reconceives it, building and developing intriguing new musical motifs along the way." – Howard Reich, CHICAGO TRIBUNE
---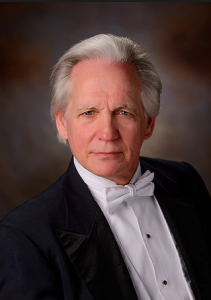 Rochester Symphony Preview with Jere Lantz
Friday, March 13, 2019
Charter House – Northview Room

Catering: Charter House – Menu TBD
Jere Lantz, President/CEO and Artistic Director of the
Rochester Symphony
, returns for his popular symphony preview. Celebrating Maestro Lantz's 40th Season with the Rochester Symphony, we present works that have meant the most throughout his career in conducting. From the first piece he led while earning his advanced degree in conducting at Yale to pieces he's found to be most dramatic, emotionally moving and glorious, this concert is a toast to a landmark achievement for both conductor and orchestra.
---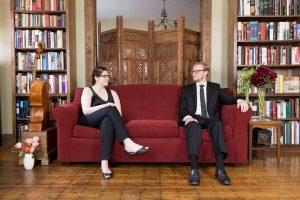 Artu Duo
Friday, April 3, 2020
Christ United Methodist Church
Catering: Asian Bar from Hy-Vee
Now in their ninth season as Artu Duo, pianist Garret Ross and cellist Ruth Marshall are based in Saint Paul MN, and enjoy concertizing and teaching together across the United States. These immersive experiences sparked a deep love of the music of Beethoven, Brahms and Schumann in Artu Duo, which has been the foundational repertoire for them ever since- not only as a duo, but as a piano trio, quartet, and quintet, when joined by colleagues. From that foundation, Artu Duo also enjoys performing contemporary and rarely-heard works, especially works by Elliott Carter and Thomas Adès.
---
Kathleen Covalt, Violin
Jan Matson, Piano
Friday, May 15, 2020
Christ United Methodist Church
Catering: Roscoe's BBQ
An avid performer, Kathleen Covalt has concertized since she was 8 years old. She has performed at venues across the USA and in Europe. She has been a first violinist with the Rochester Symphony Orchestra since 2011. Ms. Covalt was a recipient of the 2016/2017 Emerging Artist Grant through the Southeastern Minnesota Arts Council and was selected as the Minnesota Public Radio Class Notes Artist for Rochester, 2013/2014. An enthusiastic educator for two decades, Ms. Covalt currently owns and runs KML Violin & Viola Studio in Rochester, MN. Kathleen Covalt holds a Bachelor of Music in Violin Performance from the San Francisco Conservatory of Music.